If you want to achieve a timeless home decor style, and not be a victim of trends that change every so often, here are a few ideas to incorporate in your home.
Function Comes First
The majority of your decorating choices will be influenced by your choice of what you are going to use the space for. When it comes to interior design, impulse shopping is not your friend. You need to measure your space and always have practicality in mind. You can splurge on smaller, decorative items which do not necessarily have to be the epitomes of practicality, but those larger pieces should meet all the functional requirements. The most important thing that makes a space personal is whether it is actually liveable. Combine style and function, and you shall make no mistake.
Layer Lighting
When it comes to lighting your home, things are not as easy as they might seem. There are three types of lighting to consider in all the rooms of your home. The most important is ambient, or general lighting, which is the overhead lighting illuminating the whole room evenly. Consider investing in a quality ceiling or wall-mount fixture, or an impressive chandelier Task lighting lights a specific area where daily activities take place. In order to be effective, it should be free of shadows and glare. You can achieve it by installing vanity lights, desk, table and floor lamps, track and recessed lighting. Accent or directional lights are not necessarily functional, but they can be. They highlight specific features or objects, such as sculptures, paintings, houseplants, tray ceilings, steps, etc. It is ideal to combine these three types of lighting in any room because you can customize them in accordance with your preferences.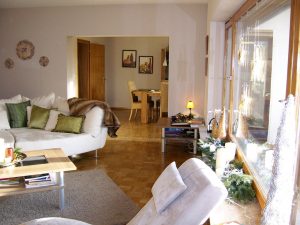 The Three Colors Rule
Interior designers have come up with a ratio for using colors in a room – 60/30/10. 60% is the main or dominant color, 30% the secondary, and 10% the accent color. Let's see what this actually means. The dominant color will cover about 60% of the room, so you should consider one from the neutral palette for this. It mainly applies to walls and floors. The secondary color is commonly designated for furniture, and as such should be a little bit bolder. But the boldest of all, found mainly in accessories, is the accent color. For example, the walls and floors of your living room can be neutral beige, the accent wall can be bold navy and the cushions mustard yellow. If, however, you are not into bold shades, you can choose all three shades of the same color, and you will have a welcoming, pleasantly designed room.
Mix Textures
When you look at a room and it feels dull, it is probably in need of some texture to spice things up and add interest and excitement to it. You can achieve this by adding accent cushions, bright satin bed covers, rugs, throws, etc. Even light fixtures can have texture, for example, polished chrome or wrought iron lights.