Even though this century is still in its adolescence, when it comes to visual arts, there are already some well-established names to take note of. All of these artists have managed to stand out from the crowd due to their innovative, groundbreaking and cutting-edge take on contemporary art.
Kumi Yamashita
This Japanese artist based in New York City, best known for light and shadow sculptures, was born in 1968. She describes her work as a combination of material and immaterial – solid objects and shadow or light. She takes single or multiple everyday objects and positions them in front of a light source. For example, she takes aluminum numbers or wood carvings and places them in front of single light source revealing mesmerizing figures on the other side. She also draws portraits using only one unbroken strand of thread, or unusual materials, such as a shoe or a credit card. Constellation Mana is one of her most famous portraits done using this technique.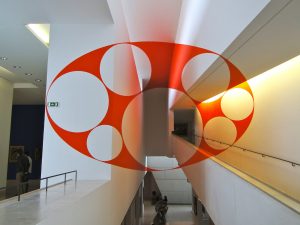 Felice Varini
Felice Varini is a Swiss artist, residing in Paris, who was born in 1952. He uses projector-stencil technique to paint geometric shapes both indoors and outdoors, for example on blank walls, buildings, and streets. To see the painting as a whole, you need to stand on a particular spot from which you can see his work fall into place. Otherwise, you see broken shapes which are only fragments. His work is described as an "anti-Mona Lisa".
Daniel Arsham
This American artist born in 1980 lives and works in New York City. His works are a combination of art, architecture, and performance.  He is comfortable working across different dimensions and disciplines, and when you look at his installations, you are under the impression that their components are doing something that they are not supposed to be doing. He says that what he is trying to do is to remake objects and the expectations people have about them. His greatest obstacle was being color-blind, which limited the palettes he chose to work with. What he enjoys is using his colour corrective lenses while he is creating, and then takes them off and enjoys the installation the way he would see it himself. He is best known for his collaborations with Merce Cunningham, Hedi Slimane, Jonah Bokaer and Alex Mustonen and their collaborative practice Snarkitecture.
Cornelia Konrads
Cornelia Konrads is a German, environmental artist who has started working in 1998. She creates gravity-defying installations in public spaces by making the stacked objects to appear to be suspended in air. Creating mainly outdoors, she finds the inspiration for her work in the topography, vegetation, history, and architecture of the surrounding area.